Stories of Hope
Moments of joy that keep us going
In a world where news is coming at us faster than ever and things feel uncertain, all of us at International Justice Mission wanted to give you something that we have a lot of — hope.
Our survivors of slavery and violence have always shown us that in the midst of darkness there is still light. We know that sharing their stories won't stop a pandemic, but it may give us a little extra motivation as we pray for those affected and help our neighbors. We hope you'll find encouragement in a few of our most joyful moments!
The wisdom of a 7-year-old.
In early 2017, Luke* was seven and received a Make-a-Wish Trip to LEGOLAND and Walt Disney World as a result of a condition that leaves him immunocompromised. In preparation for this trip, Luke's grandfather gave him $20 to buy a souvenir. But because Luke is Luke, he said, "I don't want to spend my money, I want to save it up for something bigger."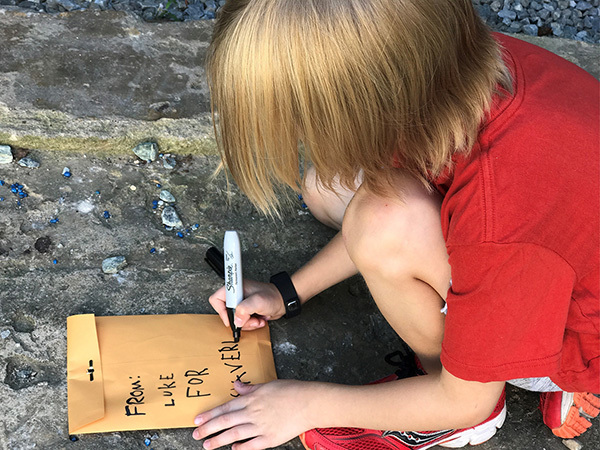 Then, after more than six months of working and saving for an epic LEGO set, Luke surprised his mom with this conversation:
Luke: "Mom, I need to give them my money."
Mom: "Give who your money?"
Luke: "IJM."
Mom: "How much do you think you should give?"
Luke: "No, I need to give them all my money."
Mom: "Are you sure?"
Luke: "Mom, I really need to do this. I need a really big envelope."
Earlier that Sunday, Luke learned that there were people in the world who lived in slavery, who lived without hope and who needed help. Furthermore, he learned that IJM was helping. So in the mind of this child, he needed a big envelope more than he needed big LEGO. It was just that simple.
"I want to give [my money] to slavery people. Because I don't want them to be called slavery people. I want them to be called their names."
In this season where we're trying to figure out what's best for our kids and how they'll understand big scary things like COVID-19 and distancing from friends and grandparents, may Luke's story give all of us some hope. Hope that our kids are pretty amazing and can give us perspective and joy even in the midst of difficult times.
*a pseudonym
Finally headed home.
IJM rescued 44 boys and 32 young men who had been trafficked from their homes almost 1,000 miles away. These men and boys were forced to labor in factories, day and night, making hundreds of pieces of gold jewelry – often handling terrible chemicals and breathing metal dust without protection. It was, in short, horrific.
Yet here's the hope. When IJM and local officials brought the boys to a safe location (and arrested the suspects who abused them), they were overwhelmed with joy. When we told them they'd get to go home, this was their response.
The person being hugged is one of our IJM staff members, and if you're like us, we can't stop replaying this moment. It personifies hope, joy and the beauty of what's possible when people keep showing up and caring for those in need of rescue.
See their reaction Read their story
This is Bablu.
Before he was born, his mom, dad and sister went to work at a wood-cutting facility to try to pay off a debt with their daily wages. But what they thought was a good job quickly turned into a life of abuse. For $15, a cruel man, called "the Beast," gained complete control over every aspect of their lives.
Their conditions were horrific, and the abuse they suffered was overwhelming. It became clear that their future would be one of slavery if they didn't find a way out.
Only a few days before Bablu was born, IJM went to investigate the facility alongside local authorities. Despite threats, Bablu's mom harnessed all of her courage and spoke boldly, telling the authorities everything about the abuse and torment they experienced. Because of her courage and the partnership of people like you, IJM intervened in his family's life and got to witness not only their rescue, but Bablu being born into freedom!
Enjoy this sweet little clip of an entire family celebrating love, freedom and cake!
What You Can Do
Make it a Family Moment
As many of us stay home, we wanted to equip you with family resources that you can share with your kids.
Get Resources
Make More Stories Possible
The monthly giving of Freedom Partners sustains our work. Become one today and make more stories of hope possible.
Join Today
Send Us Your Stories
What's something that has encouraged you recently? We'd love to hear from you — send us your stories!
Email Us
Processing
Thank you! Please wait while we process your donation.
Login
Donor Portal
Review your giving, tax statements and contact info via the IJM Donor Portal.
IJM Community
Your digital hub for the movement to end modern slavery. Get exclusive updates, connect with others, and find ways to go deeper with IJM.